The Compare files button button allows comparing two files or two versions of the same file and trace the differences
A click on the button Compare files calls the dialog box Selection of files to Compare.
.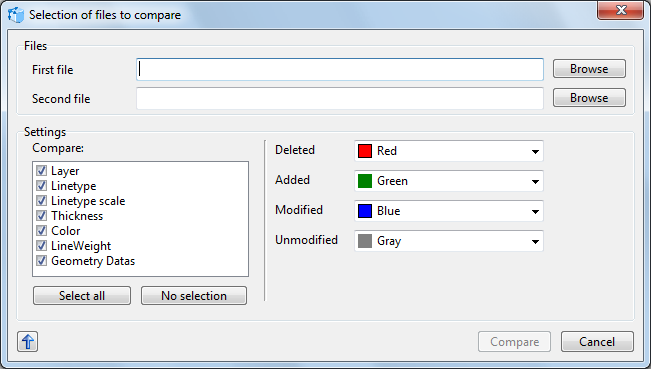 The Files section allows specifying the path to the files that need comparing. Click [Browse] to select the first and the second file.
The Settings section enables specifying parameters for comparison and the preferred display colors.
The option Compare allows selecting the parameters that will be compared. By default, all the options in the compare group are checked. If you prefer to ignore any of the options, uncheck it. It is possible to compare files with the following parameters: layer, linetype, linetype scale, thickness, color, lineweight, and geometry data.
The button Select all selects all the parameters, the button No selection unchecks all the options.
The right part of the section makes it possible to select the preferred colors for the added, deleted, modified and unmodified entities.
The button Compare opens the Comparison window, in which the two files under consideration are displayed dynamically side by side, i.e. when one of the drawings is zoomed or panned, the other one is zoomed or panned in the same way. The modifications are marked with the selected colors.
The function Compare files is available only in the version Enterprise.