What is ABViewer
ABViewer is a high-quality, cost-efficient multi-functional design and engineering document management application. ABViewer offers you a wide choice of professional viewing and editing tools. Support of more than 30 both raster and vector formats is provided, including AutoCAD DWG, DXF, DWF, Hewlett-Packard HPGL, PLT, HGL, CGM, SVG, IGES/IGS, STEP/STP, STL, 3DS, TIFF, BMP, JPG, GIF etc.
For the latest information on ABViewer and other Soft Gold Ltd. products please visit our web site www.cadsofttools.com.
ABViewer Requirements
•Microsoft Windows XP/Vista/7/8/8.1/10/11
•Microsoft Windows Server 2003/2003 R2/2008/ 2008 R2/2012/2012 R2/2016
•Linux with Wine
•CPU: 533 MHz (Recommended: 1.33 GHz)
•RAM: 512 MB (Recommended: 1 GB RAM; 2 GB to view 3D files)
•Free disk space: 200 MB
Note: Users working with large image sizes or large numbers of images will benefit from system requirements that exceed those listed above. This will ensure a faster display of images.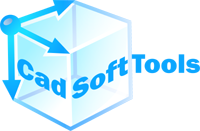 © CADSoftTools 2023
Contacts:
E-mail: info@cadsofttools.com
WWW: www.cadsofttools.com
Phone: 1-800-469-9789
All rights reserved
---
ABViewer Versions: Enterprise, Professional