Floating License is intended for usage in TCP/IP net. It consists of program "CS Floating License Server" and of copies of ABViewer installed on computers in the TCP/IP net.
A multi-user floating license uses a server to issue licenses to remote applications. The CS Floating License Server can be run under Windows Server and Windows XP/7/8/10/11.
Floating License allows you to use ABViewer on several computers. Every time a client uses a floating license he/she connects to the CS Floating License Server and gets ("leases") a license from that server and the number of available licenses on this server is decreased. When client finishes its work, the license is returned to the Floating License Server and it is available for other machines.
Note: using Floating Licenses allows to save your money. For instance: if you have several computers which will not use ABViewer at once you don't need to purchase licenses for all your computers. It is just enough to purchase Floating License for the estimated most number of simultaneously run copies of ABViewer. Then program CST Floating License Server must be installed on a computer running Windows Server and Windows XP/7/8/10/11 for storing and managing registration data. Then ABViewer can be run everywhere where it can get access to TCP/IP net. And it is not necessary to reenter registration data every time when reloading.
Setting ABViewer to Get Registration Data from CST Floating License Server
---
To set ABViewer to work with CST Floating License Server do the following:
1.Click on the button

in the right top corner of the program and select Floating License Registration... in the drop down list. In the classical ABViewer menu the command can be accessed by selecting Help > Floating License Registration... .
2.In the dialog box Floating License check the option Use Floating License Server and specify the path to the server, the application and the port: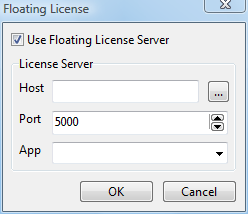 •Field Host must contain server name or Internet IP-address of a computer where program CST Floating License Server have been installed.
•Field Port must contain a port number. By default it is "5000".
•App: in this drop down list, select the program version: Enterprise or Professional.
Important: when Use Floating License Server option is switched on ABViewer ignores registration data entered in 'ABViewer Registration Dialog' . If you are using an earlier version of ABViewer you need to reload and reinstall the Floating license Server after buying a key for ABViewer to register a new version of product.